Redefining safety – Greenpeace
Originally published in the Greenpeace website.
by Jen Maman
Global military spending is on the rise. The latest figures released today by Stockholm International Peace Research Institute (SIPRI) tell us that US$1.9 trillion were spent preparing for war in 2019 by governments world-wide, a 3.6% increase from the year before. Costs for 2020 are already confirmed to increase further as major powers have boosted their military budgets and spendings. Spending in the US increased by 5.3% and in Germany by 10% from the previous years.
Does this make you feel safe?
If the last few months have taught us anything, it is that safety cannot be achieved through military power. The COVID pandemic has resulted in billions of people in lockdown simultaneously around the globe. Those of us lucky enough to have adequate shelters remain inside, isolated from and concerned for our loved ones. We watch in horror as health systems worldwide are reaching the limits of their capacity or going beyond it, and heroic front-line staff are under massive pressure.
If you had to choose between a gun and a ventilator to save your life, what would it be?
Throughout history, safety has been equated with military might, leading us to believe such massive military expenses are necessary for our well-being. This is a dangerous lie disseminated and sustained by the weapon industry and governments to justify disproportionate expanses and lucrative profits.
One fighter jet vs over 3,000 ICU beds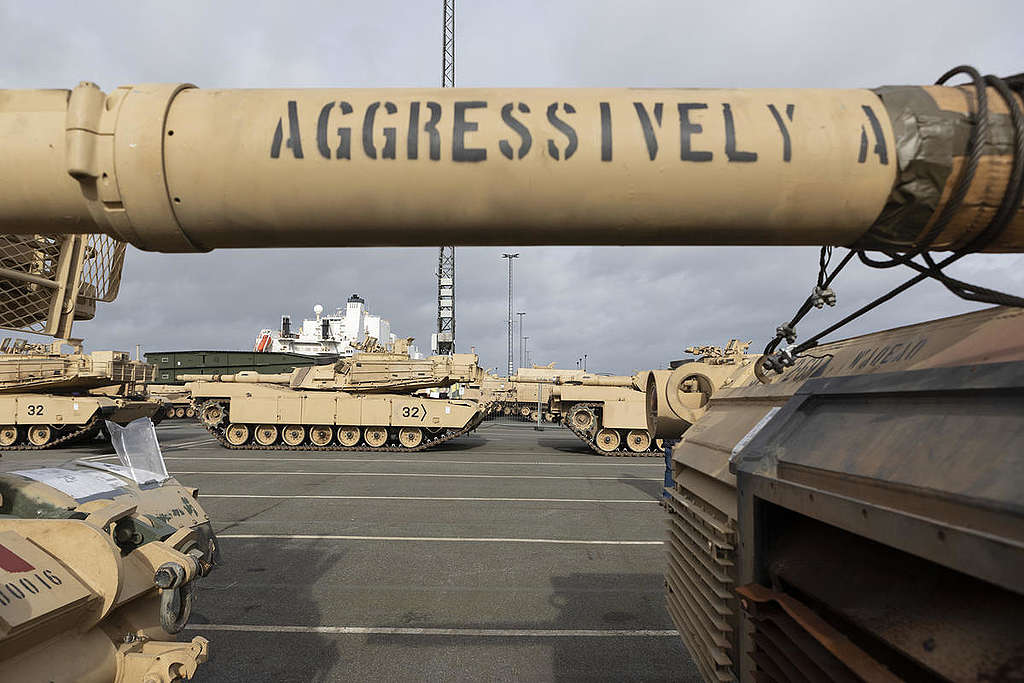 The reality is that massive military spending comes at the expense of health and other crucial services for the people. Politicians worldwide have been ignoring pandemic warnings and cutting healthcare-related costs while boosting military budgets for years. For example, according to Code Pink, in the US the Center for Disease Control's (CDC) budget is only 1.5% of the budget of the US military ($11 billion vs $738 billion). Since 2018, the Trump administration has been cutting the CDC budget, while continuously increasing the military one.
And at a time when communities around the world are struggling with the lack of intensive care unit (ICU) beds, ventilators and even simple masks, consider the following figures collected by the Global Campaign on Military Spending:
A single F-35 combat aircraft – which costs US$89 million – could pay for 3,244 ICU beds. The F-35 cost for one hour is equivalent to the annual salary of a nurse in an OECD country. The UK reported a purchase of 138 F-35 aircrafts, and the US, 1,763.
A single FREMM class Frigate warship costs US$936 million. This is equivalent to the annual combined salaries of 10,662 doctors in an OECD country. FREMM Frigates are in service in Italy and France. The US is reportedly negotiating to purchase over a US$1 billion worth Frigates.
German manufactured new Leopard 2 Battle Tank costs US$11 million, which could pay for 440 ventilators. The price of one cartridge for the tank (USD$3,200) could pay for 90 COVID tests.

Annual nuclear weapon budget worldwide is 1,000% – or 10 times – the combined budget of both the UN and the World Health Organisation (WHO).
This is madness, but it is also our current reality. What we really need right now are fewer soldiers, jets, tanks and aircraft carriers, and many more nurses, doctors, ambulances and hospitals.
For generations, we have been stuck in a mindset that external threats must be combated through military means. We have been preparing for bygone wars and imaginary enemies. This should no longer be sustained. The pandemic has also given us a preview of shocks to come as our climate crisis continues to unfold. A new report by the IPS demonstrates how militarism fuels the climate crisis, and vice versa. We must shift, the report calls, from a culture of war, to a culture of care.
The current pandemic crisis has exposed and shaken our concept of security. 2021 must be the year when military spending starts to drop to more realistic proportions and be diverted towards essentials – such as providing universal healthcare, combating poverty, and protecting the environment. For the first time in decades, there is a real chance for us to achieve this.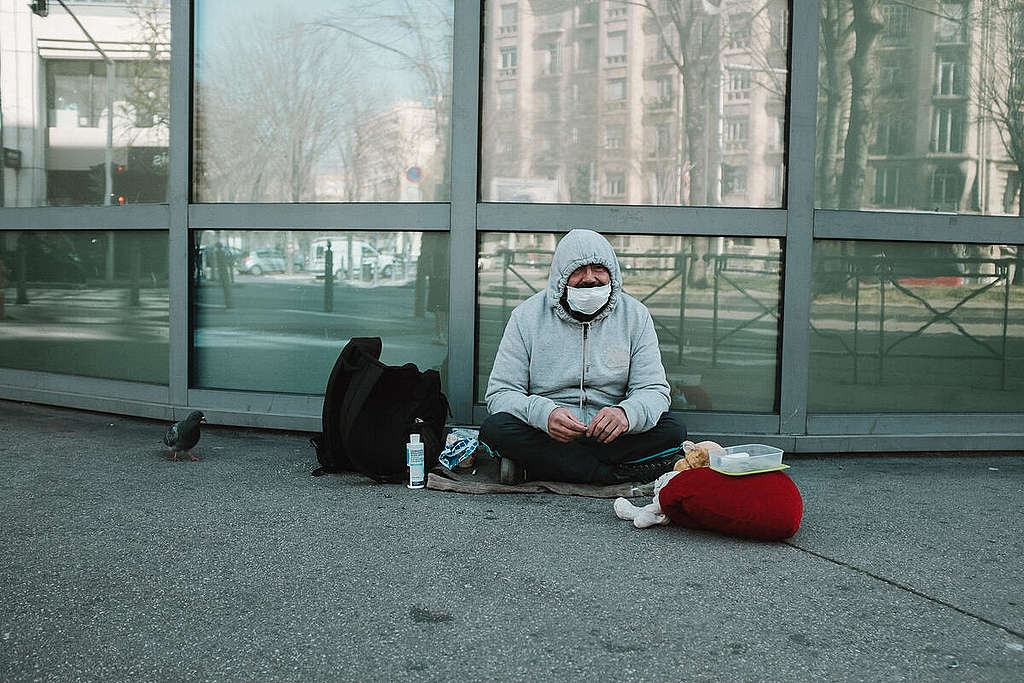 The COVID crisis had exposed how ill-prepared we are to deal with real threats. In regards to the looming global economic crisis, governments will have to carefully choose what their priorities are as civil society is becoming more vocal in demanding governments to work for real safety. In the US for example, Greenpeace has joined more than 60 organisations demanding that no COVID-19 response money goes to the Pentagon.
What can you do?
Speak up against excessive military spending and the need for better, smarter allocation of national budgets for the citizens and the greater good for the planet. Greenpeace believes we need to stop pouring money into our military-industrial complex and instead #movethemoney to sustain a more green and peaceful future.
Where would you #movethemoney? The Global Campaign on Military Spending (@demilitarizeday) invites people to share their suggestions on Twitter.
In addition, sign up to support UN Secretary General Gutteres' call for a global ceasefire! You can also show your support and solidarity for the related #Doves4Peace campaign by using the #Doves4Peace filter on your social media profile.
It's time for us to start redefining our idea of safety.
Jen Maman is Senior Peace Advisor at Greenpeace International.