Share this Newsletter in Facebook and Twitter!
——————————————————————————-
Global Campaign on Military Spending
Newsletter,  March 2017
Donald Trump announced an increasein the US defense budget
President
Donald Trump is seeking to boost defence spending by 10% in his proposed budget plan for 2018.
His plan is to increase defense spending by $54bn (£43bn). Doing so he aims to protect the United States, but according to Neta Crawford, co-director of the Costs of War Project and professor of political science at Boston University, "the United States could decrease its military spending by 10 percent, 20 percent and be just as safe, probably more safe."
Read more here
In Nairobi, Actions for GDAMS 2017 are already planned!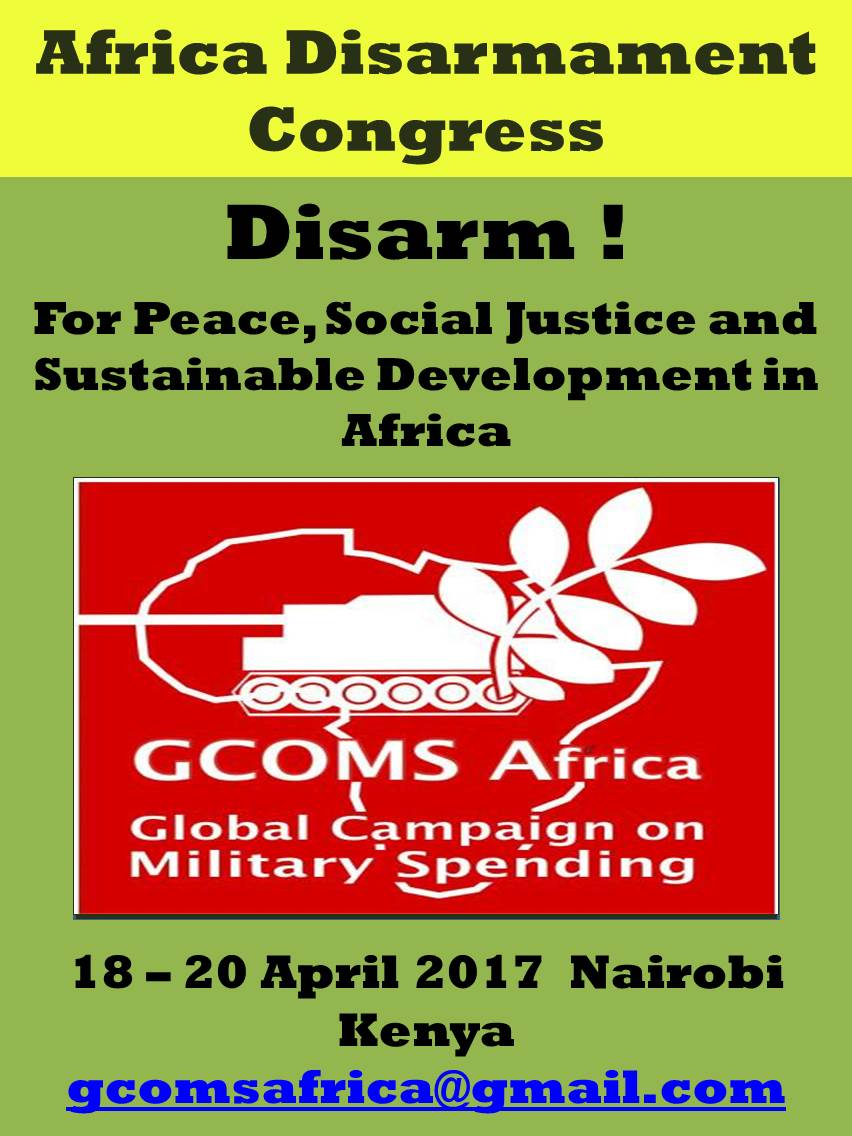 Between April 18th– 20th  the Congress "Disarm! For peace, Social Justice and Sustainable Development in Africa" will be held in Kenya. Professor Manas Chatterji from the State University of New York will participate.
Read more here.
China's Military Budget is Larger than it seems



China will spend "about 1.3 percent" of its gross domestic product on its military this year. This percentage represents an increase of around 7 percent over 2016. On March 6th the Ministry of Finance came up with the total amount of the PLA's budget, 1.04 trillion yuan ($152 billion).
Read more here
Voice of Women For Peace asked for a reduction in Canadian military spending
On 3rd March the members of the Canadian Voice of Women for peace (VOW) wrote a letter to the minister of the defence department Harjit Sajjan, to protest the dangerous and destabilizing Canadian Armed Forces' (CAF) overseas operations and to call for a reduction of military spending and a re-allocation to urgent social and environmental needs.
More info here
GCOMS U.K. has launched the English survey on Military Spending
Also for this 7th edition of GDAMS the partners from U.K. realized a survey to show where people would move the money. The on-line survey is already OPEN.  This is their question: "How would you spend £46 billion,  the annual UK military budget?"
Visit GCOMS U.K. website to have more information! Remember to follow us on Twitter @DemilitarizeDay, like our Facebook page @demilitarizeday, where you will receive all rea-time updates on GCOMS and GDAMS events.
We look forward to hearing from you soon!